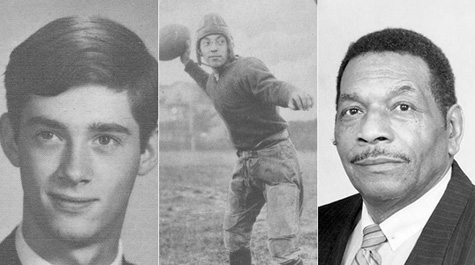 WILLIAMSBURG — Following a consultative and thorough process established earlier this year, William & Mary's (W&M) Board of Visitors voted Friday to rename two campus buildings and name one campus structure to honor trailblazing alumni who helped open the door for marginalized people at both the university and beyond.
Morton Hall will become John E. Boswell Hall, named for an alumnus, recognized scholar and advocate for the LGBTQ+ community. The Arcade at Cary Field, the arched walkway at Zable Stadium that serves as its northern colonnade, will be named the Arthur A. Matsu Arcade after the university's first known Asian-American student and William & Mary's first "true gridiron hero." Taliaferro Hall will become Hulon L. Willis Sr. Hall, named after the first African-American student to enroll at William & Mary.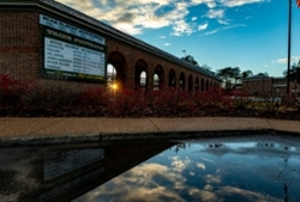 In addition, Tyler Hall will revert to its previous name, Chancellors Hall, in honor of that role at the university and all those who have filled it, according to the resolution.
"We move forward as a community, as a university, with our renewed commitment to recognizing individuals who have made lasting, pathbreaking contributions to William & Mary. Their lives inspire us to face challenges without fear," said Rector John E. Littel P '22, adding that Friday's actions to rename buildings for the three trailblazers mark another critical moment in William & Mary's history. "Today's actions highlight the importance of acknowledging and commemorating the complete and complex history of an institution that represents this nation in full."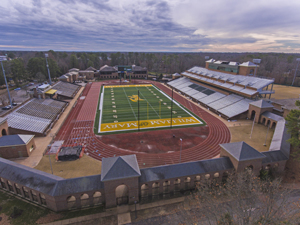 The board also voted to amend the name of Cary Field, which was named for T. Archibald Cary and his father, John B. Cary, who served as a Confederate officer. The name will now only refer to T. Archibald Cary.
President Katherine A. Rowe recommended the actions to the board following a review by the university's Design Review Board (DRB). The DRB is charged with reviewing all naming and renaming proposals based on principles created by a working group last year and approved by the Board of Visitors (BOV) in the fall. The Principles of Naming & Renaming Working Group (PNR) submitted its final report in February. With these actions, all buildings at W&M known to be associated with the Confederacy have been reviewed with appropriate planning now in place to rename or contextualize.
Rowe expressed appreciation for the work of both the PNR Working Group and the Design Review Board, citing their thorough and principled evaluation of the proposals brought forward and presented to the board.
"From the very start, we aimed to approach this in a consultative, thoughtful, deliberate and research-based way. The William & Mary way," Rowe said. "This has been a watershed year in America for all institutions, including William & Mary. Today we have addressed thoughtfully the key priorities of the report by the PNR Working Group.
"As we ensure a more inclusive acknowledgment and commemoration of our university's history, our actions must always reflect our values, including belonging, as we strive to demonstrate how William & Mary can show its leadership and care with such decisions."
In addition, as the campus landscape evolves in future years according to the university's master plan, the university will ensure Boswell, Matsu and Willis continue to be honored at William & Mary, said Will Payne '01, vice rector and chair of the Committee on Buildings & Grounds.
Honoring Boswell, Matsu and Willis
John E. Boswell '69, who earned a doctorate from Harvard, was a professor at Yale University whose scholarship in medieval history reshaped the field by uncovering LGBTQ+ people and traditions from that time. A gay man, Boswell, also founded the Lesbian and Gay Studies Center at Yale in 1987.
An initiative named for Boswell in W&M's Arts & Sciences seeks to promote scholarship on various aspects of LGBTQ+ life in the U.S. and beyond. An annual endowed Boswell Lecture is presented during Homecoming & Reunion Weekend by a scholar on a related topic.
"It brings honor to our 328-year-old institution that we name an academic building for an alumnus who used his William & Mary education to improve the lives of millions of Americans," said Jeff Trammell '73, former rector of W&M and the first openly gay chair of the governing board of a major public university. "John Boswell's scholarship inspired the recognition of same-sex relationships here and around the world. And, personally, it helped make it possible for William & Mary Chancellor Sandra Day O'Connor to marry my husband and me in the U.S. Supreme Court."
Boswell's work had a significant impact on Evan Wolfson, a civil rights lawyer who was the founder and president of Freedom to Marry, the campaign that won marriage equality in the United States. Wolfson said that one of Boswell's books inspired his law school thesis on winning marriage for gay people.
"Jeb's scholarship and friendship strengthened and sustained me as we turned a student paper into the successful campaign to win the freedom to marry — and the rest, as they say, is history," said Wolfson.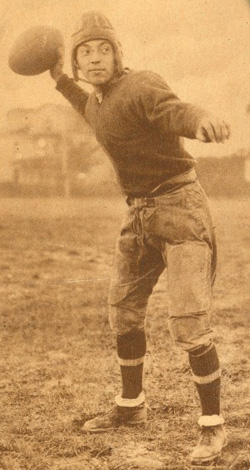 Arthur A. Matsu '27 was a student leader and four-sport athlete at W&M who earned national attention for his role as quarterback for the W&M football team. Active on campus, he was a proud member of the Order of the White Jacket, according to his daughter, Nancy Matsu Hulse. Matsu went on to play in the NFL for the Dayton Triangles, and is thought to be one of the first Asian Americans — and the first W&M alumnus — to play in the NFL. He later coached football at Rutgers University, one of the first in a long line of storied professional coaches to graduate from W&M.
Matsu is one of the Asian and Asian-American people from W&M who is being recognized during the university's Asian Centennial, which kicked off this semester. He played football in Cary Field during his time at W&M, which was then located near where Blow Hall is today.
"Art Matsu's matriculation at William & Mary ushered in the possibility of breaking down the entrenched racial barriers that prevented students of color, especially African Americans, from enrolling at the university," said professors Francis Tanglao Aguas and Deenesh Sohoni, co-chairs of the Asian Centennial, in a joint statement.
"We hope the Art Matsu arches usher in for many generations an opportunity to reflect and discern on how our community can further ameliorate the plight of diverse and minoritized students, faculty, and staff who like Art Matsu join William & Mary in hopes of flourishing as individuals welcomed and treated with dignity and respect. At a period when anti-Asian hate and violence are becoming more prevalent, this recognition provides a measure of solace to our community under siege."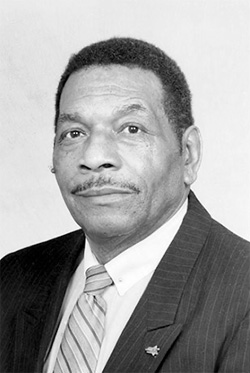 Hulon L. Willis Sr. M.Ed. '56, a World War II veteran, enrolled at William & Mary in 1951 after earning a bachelor's degree in physical education from Virginia State University. After receiving his master's at W&M, he became a health and physical education professor at Virginia State University and directed that university's campus police. Willis led the way for all of the African-American students who attended the university after him, including his son Hulon Willis Jr. '77, daughter Kimberly Willis Miles and granddaughter Mica Willis '12.
The Alumni Association's organization for alumni of Black and African descent is named for Willis, as is a book collection in the W&M School of Education. W&M commemorated the university's African-American history in 2017 when it marked the 50th anniversary of the university's first African-American students in residence.
"Our family is honored that William & Mary has renamed Taliaferro Hall to Willis Hall to honor my dad," said Hulon Willis Jr. '77. "He did not discuss at length about his summers at William & Mary as a graduate student, but it was obvious that there were challenges, not living in student housing but renting a room at a house on Braxton Court; being the only Black student at the university, and the threats from students to leave the graduate honor society if he was inducted into it.
"Regardless of his challenges, dad took pride as a graduate of William & Mary and the fact that both of his children attended the university. The naming of Willis Hall in honor of dad will add to the magnificent history of William & Mary, the state of Virginia and great diversity of people upon which this country was founded," he said.
Willis said his father died one year before the birth of his only grandchild, Mica, and he did not know that the family legacy continued at William & Mary.
While people at the university may know the name Hulon Willis Sr., they don't know his full story, said Mica Willis. But that may change now.
"The naming of this hall gives students of color a chance to see themselves in a man in which a building is named after. This is a great honor to add to his legacy."
Caleb Taliaferro Rogers '20, a Williamsburg City councilman and distant relative of William B. Taliaferro, said the change to Willis Hall will have important meaning.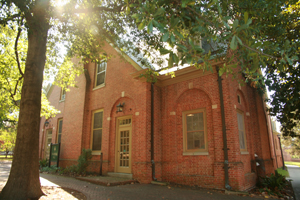 Taliaferro Hall, a residence hall on Jamestown Road, was named for William Booth Taliaferro, who attended W&M and served on the BOV from 1890 to 1898, including eight years as its rector. Taliaferro also served as a Confederate officer in the Civil War.
"Taliaferro Hall sat next to William & Mary's Admissions Office, meaning it was one of the first buildings prospective students passed," Rogers said.
"Up until today, that meant that near anyone visiting campus and near every student regularly walked past a residence hall whose namesake was an unrepentant secessionist who continued post-Civil War working against Reconstruction efforts to expand civil rights. General Taliaferro secured funding for William & Mary and expanded our curriculum during his Board of Visitors term. This however does not outweigh his iniquities. As the historical institution we are, I am glad we are considering the full history of a person in renaming Taliaferro Hall for Hulon Willis, a U.S. Army veteran and a pioneer throughout his life, especially as William & Mary's first Black student."
An academic building, Morton Hall was named for a former W&M professor and history department chair Richard Lee Morton. Morton, a faculty member for 40 years, authored several works with racist and white supremacist themes, including "The Negro in Virginia Politics."
Cary Field, the football field within Zable Stadium, moved to its current location in 1935. Both T. Archibald Cary and his father John B. Cary graduated from William & Mary and later served on the BOV.
New namesakes
Tyler Hall, which was built in the 1920s, was originally named Rogers Hall and later Chancellors Hall. In 1988, the Board renamed it for U.S. President John G. Tyler and his son, Lyon Gardiner Tyler Sr. The Board's action returns the name to Chancellors Hall, honoring the long history of this important role at William & Mary, as well as its present and future.
The board also approved the renaming of the university's history department from the Lyon Gardiner Tyler Department of History to the Harrison Ruffin Tyler Department of History. Lyon Gardiner Tyler was an alumnus who later served as president of William & Mary, and an historian who upheld racial segregation.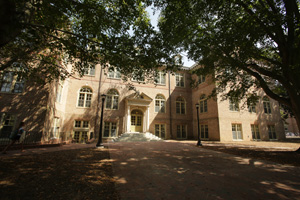 The history department was named for Lyon Gardiner Tyler Sr. in 2001 when his son, Harrison Ruffin Tyler '49, committed $5 million to the department. Harrison Ruffin Tyler, who earned a chemistry degree from W&M, was the cofounder of ChemTreat Inc., an industrial water treatment company.
"I am grateful to William & Mary and President Rowe for complying with my request to rename the Lyon Gardiner Tyler Department of History to the Harrison Ruffin Tyler Department of History," said William Tyler, son of Harrison Ruffin Tyler.
Harrison Ruffin Tyler has always had a great love for history and supported many efforts related to Virginia history, including sponsoring more than 10 archaeological explorations conducted by William & Mary, William Tyler said. He added that his father also knew the importance of providing W&M's history department with an unrestricted gift so it could determine the best use of the funds based on specific needs and goals.
"I feel that this change recognizes the contributions of my father, whose gift has enriched the department and the research it conducts," he added. "This name change honors him and all of us who are members of his family greatly."
Frances Tyler, granddaughter of Harrison Ruffin Tyler and great-granddaughter of Lyon Gardiner Tyler Sr., also commented on the importance of the renaming.
"Although my grandfather did not seek to memorialize himself, it is fitting that the department he generously supported take his name rather than his father's," Frances Tyler said. "My grandfather loves William & Mary. His gift to the Department of History continues to support remarkable research into the lives of those previously excluded from historical study, and this legacy better matches the goals of the students and faculty who constitute the university today."
William & Mary's Department of History also supports the change in name, said Professor Frederick Corney, chair of the department.
"When he pledged his gift 20 years ago, Harrison Ruffin Tyler did so with no strings attached, enabling us to undertake nuanced historical research at the faculty, graduate and undergraduate levels into often fractious and controversial topics," Corney said. "The Harrison Ruffin Tyler Endowment allows us to continue to promote research and educational initiatives examining past and present structures of racism and inequality in Virginia, the Americas and the wider world. Furthermore, continuance of this gift sustains the reach of our research into many more realms besides."
Next steps
Last fall, the Board of Visitors approved renaming two other campus spaces. Trinkle Hall, within the Campus Center on the W&M campus, was renamed Unity Hall, and Maury Hall at the Virginia Institute of Marine Science became York River Hall.
Those actions and the ones taken Friday were guided by principles developed last year by the Working Group on the Principles of Naming and Renaming, which included faculty, staff, students and alumni.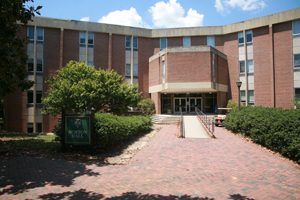 In February, the working group presented its final report to the BOV. The report includes a list of recommendations on how the university should proceed and suggested a list of people to be considered for future naming opportunities. Rowe sent a memo to the BOV asking it to consider renaming Cary Field, Morton Hall and Taliaferro Hall and gave the board a short list of people to consider for possible new names.
Following Friday's actions on naming and renaming, the university will now focus on adding contextualization to references at William & Mary to the nation's founders and other spaces across the university to ensure a fuller, more inclusive history is shared with anyone who lives, visits or works on campus.
"William & Mary has been called the 'Alma Mater of the Nation' because many of the founders and the ideas of America were connected to our institution. Without these individuals and their contributions, ongoing efforts to promote freedom, equality and democracy around the world would be greatly diminished. Today, we continue to acknowledge their contributions to our nation and university, just as we are honest about their shortcomings and failings," Littel said.
Rowe noted much of the country is grappling with the same question — how do we acknowledge and remember the conflicting legacies of the nation's founders? How do we contextualize and tell a fuller, more inclusive story? Finding answers to these questions is especially important today as the U.S. approaches its semiquincentennial anniversary, and William & Mary should lead the effort, she added.
"With respect to our nation's founders, we cannot sweep them away and ignore the revolutionary ideas of liberty and democracy they launched; those ideas have empowered oppressed peoples around the world," Rowe said. "Nor can we rest easy with simple stories of their achievements, without honestly grappling with how those ideas arose in a society defined by enslavement."
In conversations with William & Mary's closest partners in Williamsburg, Rowe said, these unresolved questions have been called "Freedom's Paradox." "We acknowledge that our nation has not understood it fully, taught it well, nor reconciled with it as we need to. As the alma mater of the nation, it is our role to speed this understanding.
"We are part of history and part of change. We bear responsibilities to the past, and the present, and the future. Leading the country in understanding how to tell the story of Freedom's Paradox well and wisely will be a critical part of William & Mary's work as a teaching and learning institution, over the coming years."
Chancellor Robert M. Gates '65, L.H.D. '98, commented that Friday's recommendations by Rowe, and the subsequent action by the board, represent "a thoughtful and common sense approach to the issue of renaming facilities. The recommendations approved by the Board of Visitors respect the Founding Fathers with historical context, preserve the building names of those whose conduct and service after the Civil War justify retention (with context), and make changes in names where warranted. The new names are, in my view, eminently deserved. All members of the William & Mary community should be proud of this overdue examination."
CATCH UP ON MORE STORIES FROM WYDAILY: