Something special is happening in William & Mary Athletics, and it's getting the attention of athletics programs experts across the country.
Over the past year, William & Mary has assembled a dream team to launch a new training model that promises to promote the same level of excellence in athletics as the university does in academics. Already the department has seen significant reductions in injuries and greater performance from student-athletes.
Called the "high-performance model for sport," or HPMS, the training regimen aims to reverse-engineer what it takes to perform at an elite level while improving the student-athlete experience and promoting wellness and increased safety.
HPMS was developed at the national and international levels to centralize the care and training of athletes; promote a high-performance culture among coaches and support personnel; and use an objective, data-driven approach to training for elite performance.
The model addresses five components of a student-athlete's life: the physical, psychological, technical, tactical and intellectual.
"The high-performance model is really important to providing the best and safest experience for our students over the 23 varsity sports," said W&M Athletics Director Samantha K. Huge. "It's a holistic approach to training for excellence that attends to every aspect of the student-athlete's experience at William & Mary. It's an incredibly powerful tool for our students and for our coaches."
W&M Student-Athlete High Performance
At William & Mary, the HPMS program is led by Erik Korem, senior associate athletics director for student-athlete high performance. Before coming to William & Mary, Korem was director of sports science for the NFL's Houston Texans and has almost two decades of national coaching and high-performance experience, including with the University of Kentucky, Florida State and Mississippi State. He holds a Ph.D. in exercise science from Kentucky.
"This approach and this model have really become the standard best practices in Europe," Korem explained, "less so in the United States. We are a little more tradition-bound. But that is changing, definitely at the national level and now at the intercollegiate level."
Over the past year, Korem and the rest of W&M's high-performance team have been working to lay the groundwork for adopting the HPMS across varsity sports.
First is a "pod" system of coordinating student-athlete care. Every week, the sport coach, performance coach, sports medicine specialist and often academic advisor — the staff members who interact most closely with the students — meet to discuss how the players are doing, training modifications and injury prevention and recovery.
"That was one of my first priorities," Korem said, "getting everybody who touches the student-athlete communicating at the same table, so we aren't losing information that can help us put that student in the best position to succeed."
The discussions are driven in part by the data they are receiving from the players through new monitoring platforms and a dashboard system created at William & Mary.
Some teams are using athlete tracking devices (Catapult is an example) to track their patterns of movement, sleep and other biological markers of how they are physically, and perhaps emotionally, responding to training and academic stress.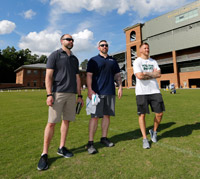 W&M Athletics cannot currently afford to outfit all players with telemetry devices, so they also rely on daily reports provided by the students through an online portal. On training days, the students report what work they performed as well as completing the Hooper-Mackinnon wellness questionnaire developed at University of Queensland and adapted for W&M.
Another key member of the team, Scott Kuehn, performance coach and data science coordinator, in partnership with a student intern, developed an online dashboard for free using Google Docs that allows all sport coaches access to the reported data.
"It allows us to 'peek under the hood' at what's happening with student-athletes biologically," Korem explained. "We can use that information to help prevent injuries, address performance and promote wellness."
Already the department has logged some impressive wins. The women's lacrosse team, which adopted HPMS early, saw an almost 80% reduction in injury last season while improving its record. Football saw a 55% drop in injuries during spring of 2019.
Sometimes the model calls for less intervention, as when former Olympic sprint coach Omar Brown joined W&M track & field. Korem knew from the monitoring that team members were already operating at their maximum in terms of academic stress, training readiness and recovery. So they spent less time in the weight room and more time on quality speedwork, ultimately breaking multiple records.
"We're trying to become the best problem-solvers in the conference," Korem said. "We're reverse-engineering elite performance and then developing programs to develop its constituent parts. But we're also helping our coaches leverage their skill sets so their student-athletes improve. When all of these things are managed correctly and developed at a high level, students don't get injured as often."
The data and individualized attention also empower students to participate in their wellness and actively work toward their goals. W&M Athletics has bolstered these efforts by converting the sports psychologist position to full-time, partnering with the campus dietician to create a nutrition curriculum and investing in sports medicine. Dr. Virginia Wells has recently been added to the team as chief medical officer.
W&M Athletics is also forming new partnerships across campus for research, Korem said. They are working with students and faculty in computer science on a paper involving lacrosse as well as another on artificial intelligence modeling in basketball.
The department has also invested in particular sports, hiring Keir Wenham-Flatt as athletics performance director and coordinator of football performance. Wenham-Flatt was previously working with professional rugby in five countries, including taking the Argentina national team to the Rugby World Cup and the Sydney, Australia, team to the World Club Challenge.
In men's and women's basketball, W&M Athletics hired Ray Eady as director of basketball performance and Professor Jack Ransone as associate athletics trainer (also for men's and women's golf). Ransone had previously directed the Nebraska Athletic Performance Lab and was coordinator of medical systems for the San Antonio Spurs.
As a result, the HPMS at William & Mary and subsequent investments in individualized support are proving to be powerful recruiting tools for the university. The department plans to continue and expand its focus on elite performance in its strategic planning, elevating William & Mary's competitive success and commitment to the student experience.
Korem has noted that one difference between working with professional athletes versus student-athletes is that students want to understand deeply all the aspects of their wellness and performance.
"Especially at William & Mary, where the students are just so intelligent," Korem said, "they want to really understand their training, their diets and how to become more resilient in the face of stress. When they see the benefits of having objective information, they are empowered to make adjustments to back off when necessary and to push ahead to perform at their peak. It's incredible to see their progress."