On the first night of its debut in Swem Library, the new short story dispenser printed so many short stories – 200 to be exact – that the machine ran out of paper.
"As a library, we want to help students engage in creative activities, pleasure reading and personal enrichment," said librarian Liz Bellamy. "And the fact that we went through an entire roll of paper the very first day shows that students really want that too," said Liz Bellamy.
On March 1, William & Mary Libraries unveiled its newest addition to Swem Library: a short story dispenser that prints out pieces of flash fiction on demand. The dispenser, produced by French company Short Edition, is the first and currently only of its kind in Virginia.
Users simply press a button to choose a 1-, 3- or 5-minute story, and the dispenser prints an original short story on a scroll, eco-friendly paper free of charge. The dispenser selects from one of 100,000 stories written by 8,000 independent authors. The randomized stories are chosen to inspire any number of reactions from readers, from "living a daily moment" to "changing the universe."
Lisa Nickel, associate dean for research & public services first encountered the machine at the American Library Association Conference in the summer of 2018, and led the acquisition of the dispenser.
"We are so excited to share the short story machine with the William & Mary community. As librarians, we work with students and faculty conducting scholarly research all the time. But, we also believe in promoting the joy of reading for fun, lifelong learning and building community. We think the short story machine will help us do all of that and more," said Nickel.
Aside from providing reading material, the short story dispenser affords the Libraries a unique opportunity to build community through the sharing of stories. Writing contests hosted in collaboration with Short Edition will provide writers on campus a platform to showcase their work on the Short Edition website and through the dispenser in Swem Library, with the possibility of their story being included in other dispensers around the world.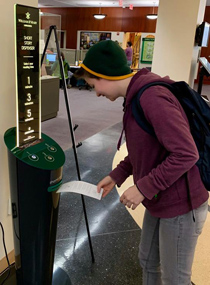 Short Edition CEO and co-founder Christophe Sibieude and Loïc Giraut, Short Edition's Business Development Manager, traveled from France to attend Swem's grand unveiling.
"We are so honored to introduce Short Edition to such a prestigious university," said Giraut.
"The objective is to not only to promote reading – to take students off their phones for four or five minutes – but also to engage through writing, to invite students to be published in this machine and other machines in the U.S. and internationally."