While William & Mary will soon formally inaugurate Katherine A. Rowe, it's already been a busy seven months for William & Mary's 28th president.
Rowe was sworn in on July 2, 2018, by Virginia Gov. Ralph Northam during a ceremony at the Wren Building. Since that time, Rowe has hit the ground running, immersing herself in numerous formal and informal initiatives and events, including her Thinking Forward strategic listening initiative, to learn about the William & Mary community.
She will be inaugurated on Feb. 8, 2019, during the university's annual Charter Day ceremony, scheduled for 3:30 p.m. in Kaplan Arena. Chancellor Robert M. Gates '65, L.H.D. '98, will be re-invested during the same event. The ceremony is open to all members of the community and no tickets are required.
"As a scholar, educator and an entrepreneur, I am naturally drawn to William & Mary's royal charter for both its history and its vision," Rowe said when it was announced the inauguration would coincide with the university's Charter Day. "So I'm honored to share my inauguration with the celebration of William & Mary's foundational document. Leading this university's next chapter is exciting and humbling. I'm also looking forward eagerly to honoring our exceptional chancellor, Robert Gates."
Thinking Forward
During her first semester, Rowe sought feedback from the university's community through the Thinking Forward initiative, which included a number of town hall forums and targeted social media outreach centered on the future of knowledge, work and service at William & Mary. Comments were also accepted online through the Thinking Forward website. By the end of the semester, more than 800 data points were gathered from the university community.
"This fall, I listened closely to our community – undergraduate and graduate students, faculty, staff, alumni and friends; the excitement and thoughtfulness in these conversations was palpable," Rowe said in a message to the campus community.
From those discussions, three themes emerged: Deep human connection is a hallmark of William & Mary; the intersection of diverse modes has increasing value (fields of knowledge, skills in work and integration of service); and sophistication in bridging difference, cultivated in an inclusive community, enriches our lives – at work, in service and, most importantly, in relationships with others.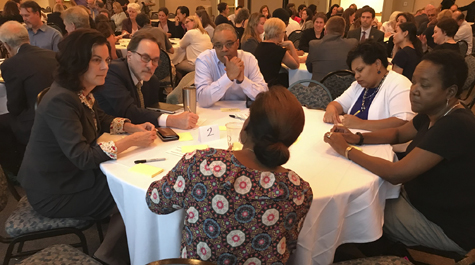 The next phase of the initiative, Rowe said, will be planning this semester in advance of next fall's formal launch a new strategic plan, including a campus-wide effort to enhance awareness and understanding about William & Mary's financial model. In mid-January, Rowe shared the 2018 Financial Report in a message to the entire William & Mary community.
"Charting our future requires a deep understanding of our fiscal realities. The 2018 Financial Report underscores the critical importance of aligning resources with our highest priorities," Rowe said. "This moment of relative prosperity affords us the opportunity to think strategically and act from a place of strength, recognizing the pressing importance of securing a firm financial foundation for the longer term. I very much look forward to continuing this work with you."
Continued listening efforts will take place through the end of the academic year. In mid-April, work is expected to begin on shaping the strategic planning process.
"This semester, we will shift to deeper exploration: studying key challenges and opportunities generated in those conversations as we consider how to advance what we value most," Rowe said. "We'll also move forward on some key initiatives, continually listening to and learning from our community, as we prepare to launch formal strategic planning in fall 2019."
Being Bold
One of Rowe's top priorities has been to maintain the momentum of William & Mary's $1 billion For the Bold campaign. The university surpassed the $800 million mark in July and has greatly strengthened alumni participation and engagement.
She has been meeting with alumni, parents and friends throughout her time at W&M, discussing the campaign's priorities and impact thus far, including the creation of 437 scholarships, acquisition of 73 new pieces of research equipment and establishment of 36 funds for professorships. There has also been a significant increase in the number of new career and networking opportunities for alumni.
In July, an anonymous alumna made a $1.5 million gift in honor of Rowe to establish a President's Strategic Investment Fund. The following month, the university announced a $10 million gift from Jane P. Batten to establish a Center for Online Learning at the Raymond A. Mason School of Business. Batten's enthusiasm for Rowe was the impetus for making this transformational investment in the Mason School.
In September, Rowe participated in William & Mary's inaugural Women's Weekend for alumnae, part of a yearlong commemoration of 100 years of coeducation at the university. During that weekend, the Society of 1918 — a society created by women, for women — presented Rowe with a gift of $2.65 million in support of an endowment benefitting W&M alumnae. The president, along with her mother and daughter, are among the 371 members of the society.
The next month, Rowe spoke at the William & Mary scholarships luncheon in which students and alumni talked about how their lives had been changed by scholarships. At the event, Rowe announced that she would lead the Affording Opportunity scholarships effort and secure the $350 million fundraising goal. As part of that, she and her husband, Bruce Jacobson, created a scholarship for students with significant financial need.
"We decided last spring to make the largest philanthropic commitment we have ever undertaken: to establish a scholarship so that students who deserve to be a part of our William & Mary family, but do not have the financial means, are afforded the opportunity to do so," Rowe said at the time. "In creating this scholarship, we find great meaning and look forward to the day that we can sit next to those students at this luncheon, and hear their stories, because of our gift."
Also in October, Rowe helped break ground on the Busch Field Team Facility, the new home for women's field hockey. The facility was made possible with a $2.4 million commitment from several donors through the Century Project fundraising initiative.
Rowe dedicated the McLeod Tyler Wellness Center and Shenkman Jewish Center during the fall 2018 semester, both of which were made possible through private donations.
"President Rowe has been a tireless advocate for the campaign and its priorities, inspiring so many in our university community to galvanize behind this essential undertaking," said Sue Hanna Gerdelman '76, chair of the For the Bold campaign. "She has great aspirations for William & Mary's future and is fully committed to triumphantly closing the campaign."
Community engagement
Rowe also spent her first semester at William & Mary engaging with the community in other ways, meeting with faculty, staff, students, alumni and community partners and taking part in multiple events.
In August, Rowe participated in her first Welcome Weekat the university. She helped students move into their residence halls and later spoke at Opening Convocation, joining the new students as they took the traditional walk through the Wren Building and down a long, enthusiastic receiving line into the Sunken Garden.
Rowe was also fully engaged in Homecoming & Reunion Weekend, participating in the parade and leading the sunset ceremony.
The president is an avid Tribe fan and can frequently be seen at various W&M sporting events. In November, she participated in a spirited send-off for the W&M Field Hockey team as it left Williamsburg to compete in the NCAA tournament after winning its first-ever Colonial Athletic Association championship.
Also in November, Rowe showed her support for the university's sustainability efforts by announcing W&M'sfirst long-range, comprehensive Sustainability Plan, a part of the Sustainable Endowments Institute's Billion Dollar Green Challenge. Under Rowe's leadership, W&M pledged to grow its green revolving fund for environmental efforts from $200,000 to $1 million by 2025.
In December, Rowe participated in her first Yule Logceremony, offering her own twists to the tradition, reading a new book, "The Snowy Day" by Ezra Jack Keats, and leading participants in singing "Let it Go." She also sent her first holiday greeting card — featuring her and an equine friend — to the university community.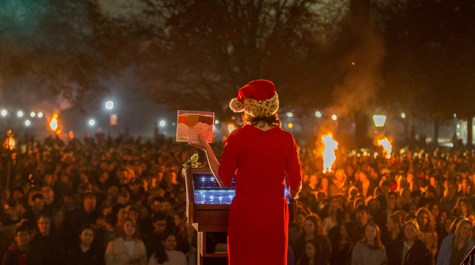 Rowe has made it a priority to hear from a range of voices across campus, including faculty, staff and students, according to Cathy Forestell, associate professor of psychological sciences. Forestell also serves as chair of the inauguration committee and as faculty representative to the Board of Visitors for the Faculty Assembly.
"Faculty members appreciate President Rowe's fresh perspective, her willingness to listen, her intellect, and her experience with and deep respect for a liberal arts education," Forestell said. "Throughout her time here, President Rowe has made a real effort to ensure faculty voices are heard."
In September, Brendan Boylan '20, president of the Student Assembly and Rowe participated together in the university's first Facebook Live broadcast from the President's Office. Boylan said that Rowe has been very engaged with students and responsive to their concerns.
"She is able to toe the line between the progress of activism and the inertia of institutions, and I think she's accomplished a great deal in terms of focusing in social justice while navigating William & Mary's many different stakeholders," he said.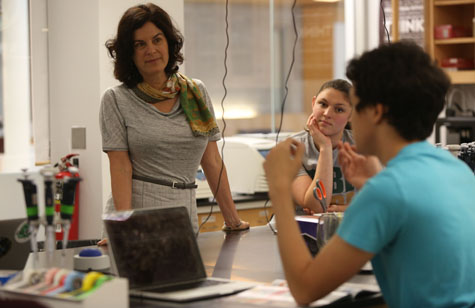 Government relations
In addition to interacting with members of the campus and local communities, Rowe has met with many government leaders — local, state and federal — in the past seven months.
At the federal level, Rowe has engaged with Virginia Sen. Mark Warner (D-Va.), Florida Congresswoman Stephanie Murphy '00 (D-Fla.), who spoke at W&M's 2018 Opening Convocation ceremony; and former Congressman Scott Taylor (R-Va.). In March, she will meet with other members of the congressional delegation from Virginia as well as more W&M alumni in Congress.
In Virginia, she has met with many members of the Virginia General Assembly, including Speaker of the House Kirk Cox (R-66th), Senate Majority Leader Tommy Norment (R-3rd), House Education Committee Chairman Steve Landes (R-25th), House Appropriations Committee Chairman Chris Jones (R-76th), local state senator and alumnus Monty Mason '89 (D-1st) and local delegate Mike Mullin (D-93rd).
Rowe connected strongly with Stephen Moret, president and chief executive officer of the Virginia Economic Development Partnership, and interacted with multiple Virginia cabinet secretaries including Secretary of Finance Aubrey Layne, Secretary of Education Atif Qarni, Secretary of Commerce and Trade Brian Ball and Secretary of the Commonwealth Kelly Thomasson.
In October, Rowe joined the presidents of the University of Virginia and the University of Richmond as a panelist for a Hunt Institute program for Virginia legislators.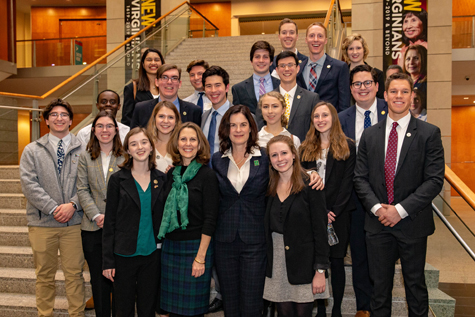 In January, Rowe joined dozens of students in the Virginia General Assembly to advocate for W&M's priorities. During the 23rd annual Road to Richmondevent, Rowe prepared students to talk with legislators and other government officials as representatives of the university. Rowe, too, talked with the officials throughout the day, including the first lady of Virginia, Pamela Northam, who attended the evening reception.
In the headlines
Rowe's presidency has caught the attention of many beyond the W&M community, including members of the press who have featured her in multiple national outlets. Her selection as the university's president received notice across the country, with news organizations including the Washington Post and U.S. News & World Report running stories.
In October, Rowe and her husband were featured in the Wall Street Journal as part of an article about historic homes for university presidents.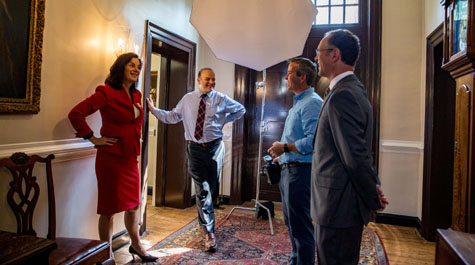 The next month, the Washington Post ran an op-ed by Rowe about how W&M is preparing graduates for a rapidly-changing workforce.
At the end of January, the Daily Press published an op-ed coauthored by Rowe and Jennifer Boykin, president of Newport News Shipbuilding. The piece advocates for increased collaboration between higher education, government and business.
Beyond inauguration
With Rowe's inauguration imminent, campus leaders look forward to what the president will do beyond the festivities of Charter Day weekend.
"Faculty hope to see that Katherine will continue her commitment to shared governance and will work with the university community to initiate innovative changes that preserve our values at William & Mary," said Forestell.
Rowe carries herself with a "calm strength and fierce intellect" that many at W&M have found to be inspirational, Boylan said.
"I think what the student body hopes to see is someone who will be a leader on so many different issues facing not only William & Mary, but institutions of higher education all across the country," he said. "And I certainly trust her on that front."