There is an image that is woven into William & Mary Class of 1996 alumna Kiya Winston Tomlin's mind like a well-made garment. It's crisp and unforgettable. The image helped shape an 8-year-old girl's view of fashion, and how it can leave an impression years after the person wearing it has left the room.
She was wearing a voluminous, head-to-toe white silk chiffon outfit that was billowing in the breeze, along with an enormous halo of hair," Kiya says. "When she saw us, she came down to the grass level and sat directly on the grass with us — in all that white silk chiffon. I immediately recognized that it was Diana Ross."
It was the summer of 1982 in East Stroudsburg, Pennsylvania, and Kiya was away from home at a gymnastics camp. She had befriended one of Ross's daughters at the summer program and Ross had come for a visit that day, says Kiya, who didn't know before the meeting that her new friend's mother was Diana Ross.
"The entire scene still replays like a slow motion dream to me … the vision of elegance, drape of the fabric and the ease of her sitting with us defines my brand concept to this day," Kiya says.
Kiya wants women to feel comfortable, confident and beautiful when they wear her designs, the same way she viewed Ross that summer day as a little girl.
Launched in 2014, the Kiya Tomlin fashion brand offers practical, versatile and stylish clothing. The durable, yet soft fabric of the garments drapes the body just enough to give the wearer an attractive silhouette without restricting her from carrying out life's everyday tasks of working, going out to dinner with friends, taking the children to soccer practice or picking up a gallon of milk at the grocery store.
Kiya, the wife of Pittsburgh Steelers Head Coach Mike Tomlin '95, L.H.D. '08, and the mother of three, lives a similar life and wanted to make clothing for women to navigate their day with ease, comfort and class.
In August of 2018, Kiya expanded her business by selling and manufacturing the brand's clothing under one roof, opening the Kiya Tomlin Work/Shop in Etna, eight miles north of downtown Pittsburgh. The expansion gives customers a rare glimpse into how clothing transforms from rolls of fabric in a factory to an outfit for work or play.
"In my heart I felt if I could design, manufacture and sell in one place, that would be a dream," Kiya says. "That seemed like success."
A sewing machine from Santa
Kiya, who grew up in northern New Jersey, began designing and making clothing at 10 years old for a practical reason; she struggled to find clothes for her petite frame.
"I wanted to wear clothing that I would see fashionable people wear, but that type of clothing wasn't available in children's sizes, so I asked Santa for a sewing machine for Christmas," Kiya says.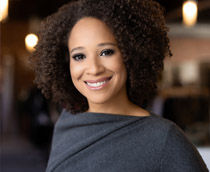 By the time Kiya reached middle school she was making her entire wardrobe, shifting back-to-school shopping from the mall to the neighborhood fabric store. Despite her natural skill and interest in making clothing, Kiya didn't envision herself pursuing a career as a fashion designer. She wanted to study medicine.
"She was an excellent student, but I didn't see the same passion for medicine in her as I did for fashion," says Susan Winston, Kiya's mother. "I didn't want to discourage her, but I didn't see it. I saw fashion designer."
A Tribe called William & Mary
Kiya and her two siblings knew that to attend college outside of New Jersey they needed scholarships. Her first trip to William & Mary was during a college tour the November of her senior year in high school.
"I knew I didn't want to stay in New Jersey, so I worked really hard to get a scholarship," Kiya says.
Kiya, a psychology major, balanced books with gymnastics, where she held the record in the uneven bars category for several years. Kiya used her spare time to make custom clothing for fellow students.
I made your clothes
Everything is done from scratch in the Work/Shop. Kiya and her staff draft designs by hand before cutting them out of cardboard to make a template. They spend hours sewing the fabric into wearable clothing to ship to boutiques across the country, fill online orders or build up inventory.
"I wanted to open the store up to manufacturing so people can see what we do," Kiya says. "I think we lose sight of all that goes into manufacturing by buying our shirts at fast fashion retailers for $2. We don't see the amount of work that goes into it."
The brand
Kiya's designs are loose fitting and soft to the touch but durable. Her designs are simplistic without sacrificing style. The clothing is comparable to the comfort of a sweatshirt, but does not feel like a traditional one. The bamboo fabric softens the garment, allowing it to retain the same level of comfort after repeated machine washes, Kiya says.
While the brand's target customers are women between 30 and 60, customers who fall outside that range often buy her clothing.
"Within one day I had a college freshman and an 80-year-old woman on a walker who each bought something," Kiya says.
Several celebrities have found comfort in Kiya's designs, including Robin Roberts, Kaley Cuoco and Gayle King. The Kiya Tomlin fashion brand has been featured in O, The Oprah Magazine, in Essence and People magazines, on the "Today" show and "Entertainment Tonight."
But the accolades do not influence the next design for Kiya. The customers do. Just as she sought out a sewing machine to create custom clothing to fit her better at the age of 10, she strives to deliver a personalized fit to women who buy the Kiya Tomlin brand.
"When I see different body types in my pieces, the custom designer in me always wants to make it work," she says. "If you have an hourglass figure, the Signature Dress is for you. If you have a pear shape, the Signature Dress is for you. If you have an apple shape — the Signature Dress is not for you. What can I make for the apple? That is really the inspiration for all my designs. I'm constantly trying to fit women's bodies better."