Music and acceptance played major roles in the decision Lucy Greenman '22 made to accept a 1693 Scholarship offer and attend William & Mary.
Music and acceptance have played major roles in what has been a turbulent, heart-breaking first semester for anyone of the Jewish faith.
The murders of 11 people at the Tree of Life Congregation in Pittsburgh on Oct. 27 occurred one day after Greenman led her first Shabbat service on campus. She had brought a non-Jewish friend to the Shabbat, the Jewish day of rest that runs from sundown Friday to the same time on Saturday and features prayers about Jewish history and ancestry, and prayers for peace and protection and thanks to God. As part of her responsibilities as a leader, Greenman plays the guitar and sings most of those prayers.
"I remember thinking that night as two freshmen and a senior led the service together how lucky am I to have this community pre-made and ready to meet me when I came to college because of this history that we have in common," she said. "The next morning, of course, that history was the reason that a lot of lives were taken."
Two days later, the university held a solemn vigil outside the Wren Building that was attended by dozens of faculty, staff, students and community leaders.
"It was lovely, but what really struck me about the event was the diversity of the students who were there," Greenman said. "There was a huge outpouring of support from the non-Jewish community after that tragedy. That was so comforting and reassuring to me. It was not something that I expected. I've never experienced an act of violence like this that targeted my community, so I never got to experience the love that can come after it."
Greenman described her faith as "something that's been growing over time." She did not attend religious school until she was 10, and she was 13 when she had her Bat Mitzvah. But during high school, she worked at her Northern Virginia synagogue as a teacher's assistant for two years, then taught music to kindergarteners and first- and second-graders, some in English, some in Hebrew. She also ran interactive prayer services for children and their parents and, finally, co-taught the story of Abraham through Joseph one semester and the history of Moses her last semester of high school.
In some of her classes, children wrote their own songs, with her added input.

It was the reception she received from an audience listening to one of her original compositions last April that cemented her decision to come to William & Mary.
She and a couple other 1693 Scholars went to Meridian Coffeehouse to attend an open mic night. Greenman had her guitar with her and, after listening to a few other acts, stepped to the front to play a song called "Skeletons."
"I'm sure everyone would have been supportive even if I was terrible," she said. "That's just how they are: loving, accepting people, especially when you're going out on a limb, playing an original song at a school you don't even attend yet. But they really were so kind and so encouraging that it made me realize that this would be the kind of place that would fit into my style of art.
"That was a huge emotional motivation, though to be completely honest the 1693 Scholarship completely sealed the deal. There was no walking away from that. But my heart was at William & Mary after that point."
The theme of "Skeletons," Greenman said, is about all of the word's different meanings. It can be about keeping secrets. It can represent a person's ancestors and history.
It also represents, as she said, "having the spine to stand up for something you believe in."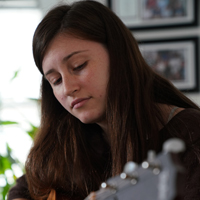 That seems an appropriate quality to possess for everyone – but especially Jews and other minorities – during a time when violent acts are frequent occurrences.
"Mass shooting are common nowadays, and hate crimes toward Jews have always been common," she said. "I'm aware of the fact that I have something to be afraid of. I'm inherently vulnerable because I am a minority, but it's not something that I want to take away from my religious experience here. If anything, it makes it more important to strengthen this community, to have student-led services, to draw in non-Jews so that they can learn about our faith and share in grieving when these experiences do happen."