Research sponsored by the Omohundro Institute of Early American History & Culture at William & Mary has uncovered the first documented purchase of Jane Austen's debut novel, "Sense and Sensibility."
It took place two days before the novel was advertised to go on sale, but that may have been made possible by the position of the purchaser: England's prince regent, the man who later became King George IV.
"This is a terrific discovery," said Sarah Glosson, director of the Arts & Sciences Graduate Center and an expert in the history of Austen's popularity. "Scholars and fans have long had questions about how Austen first gained the notoriety that positioned her for the popularity she still enjoys today. Her novels are genius for sure, but how did they manage to gain a foothold amid a glut of contemporary novels that have long since been forgotten? A gem of information like this — safely the first documented purchase of one of her novels — helps us better piece together the landscape in which Austen's popularity took root."
Nicholas Foretek, a doctoral student at the University of Pennsylvania, made the discovery while researching 18th-century printing and publications in the British Royal Archives through the Georgian Papers Programme. Foretek was awarded a fellowship for his research by the Omohundro Institute.
The Georgian Papers Programme (GPP) is a partnership between Royal Collection Trust, lead academic partner King's College London and international institutions, including primary U.S. partners the Omohundro Institute of Early American History & Culture and William & Mary.
"The OI is committed to sponsoring fellowships as a key piece of our work as a primary U.S. partner for the GPP," said Omohundro Institute Director and William & Mary Professor of History Karin Wulf. "It's wonderful to have the opportunity to support and share discoveries such as Nick's."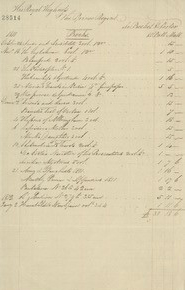 Launched in 2015 by Queen Elizabeth II, the Georgian Papers Programme is an interdisciplinary project to digitize, conserve, catalog, transcribe, interpret and disseminate 425,000 pages or 65,000 items in the Royal Archives and Royal Library relating to the Georgian period, 1714-1837. The ultimate goal of the GPP is to provide a unique digital resource that is both readily accessible to members of the public and capable of sophisticated manipulation by researchers in any discipline and to offer academic and public programming representing fresh research and interpretation. More than 60,000 pages of these historical documents have been published already with more than 20,000 new pages of material due to be launched in the coming month.
W&M Libraries has also been involved in the project, with librarians and student assistants in the digital lab at Swem Library transcribing materials and adding metadata to make the collection discoverable by researchers.
"Scholars have just begun to scratch the surface of this archive," said Glosson. "We'll see many transformative discoveries in a number of fields thanks to the Georgian Papers Programme. William & Mary has already sent two history doctoral students to conduct research, thanks to our partnership."
According to a blog post written by Foretek, King George IV has long been known as a fan of Austen's work, keeping copies of her novels in each of his residences. He invited her to tour the Carlton House library and to dedicate one of her future books to him; he also offered plot suggestions — an offer she did not accept.
He purchased her debut novel in 1811, and records reveal that he also bought copies of "Pride and Prejudice," "Mansfield Park," "Emma" and "Northanger Abbey."
"How much the rakish Prince took from the novels, and whether his inspiration tended towards the secret marriage contracts of a Mr. Frank Churchill or the more mature deliberations of George Knightley remains very much an open question," Foretek wrote.
Foretek's blog post is published on the websites of the Georgian Papers Programme.