Coming soon to a regatta near you: W. Taylor Reveley III.
No, it's not the W. Taylor Reveley III who is concluding 10 years as president of William & Mary. This W. Taylor Reveley III is the sleek, new gray shell the university's rowing club named in his honor May 21 at Chickahominy Riverfront Park. It will make its debut at the men's club's first regatta of the fall.
Reveley, who was a member of Princeton's lightweight rowing team as a freshman and sophomore, arrived in suit and tie, thinking he was merely attending a practice. When Graham Ludner, director of rowing, removed two gold T-shirts to reveal "W. Taylor Reveley III" in black block letters, the president was flabbergasted.
"Good Lord," he exclaimed. "That is remarkably nice!"
Later, he told the more than 20 students gathered, "This means a whole lot to me. Crew meant a whole lot to me. The only thing we need to figure out is 'W. Taylor Reveley III' is too large a mouthful for a shell to have to bear. I would suggest just calling it 'Taylor.'"
Ludner led everyone through a traditional boat-naming ceremony.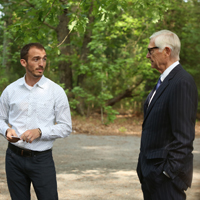 "Since the beginning of time, sailors have believed there are lucky vessels and unlucky vessels," he said, while Reveley paid rapt attention. Ludner beseeched Neptune, god of the water, and Aeolus, god of the wind, to offer protection and safe passage for the newest addition to the rowing club.
Those gathered lifted plastic cups of sparkling cider and made the first of several toasts.
"Hear, hear!" Reveley said, raising his cup as the students tittered. "Got to keep the gods happy."
Linda Knight, director of campus recreation, told the students that Reveley has been a constant supporter of her programs for the 20 years she has been on campus.
"It's always nice to be in meetings, whether it be a Board meeting or something else, and they're talking about athletics, and pretty much without fail, Taylor always says, 'We also have a great campus recreation program; we have a great sport club program. We don't need to forget that.'"
She turned to Reveley.
"There's not a lot of things we can do with naming rights without getting a lot of people involved," she said, "but the one thing we can be a part of — and it's the highest honor we can give you, Taylor — is to name this boat after you."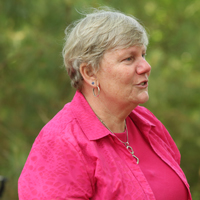 Reveley told the students he admired what they have accomplished, given their meager resources. He wished things could be different.
"If I had a magic wand, I would extend it and take the magnificent things you've done on a shoestring and get you guys some more money and, ideally, varsity status," he said. "This is really good water; it's great crew water. We could be a giant crew powerhouse."
The president peppered the students with questions about their schedule, whether they wagered their T-shirts against the competition, whether any had caught a crab while rowing, or been tossed from the boat.
When Ludner offered Reveley the opportunity to climb into the shell, he declined. But given the chance to ride alongside the shell on a trip through the Chickahominy, he doffed his jacket, got on board and rode, a big smile on his face.