One conversation changed the course of Denzel Dykes' academic career at the College of William & Mary. It also changed the path he envisions the rest of his life will take, beginning with Commencement last Saturday.
And to think he almost sat in silence rather than approach former professor Robert Ruffin in a theater class three years ago.
"He was very passionate, just the way he introduced himself, the way he talked, the way he moved," Dykes said. "Everything was so, for lack of a better word, dramatic, but subtle and believable. His passion brought out mine. One day after class I remember telling myself, 'I'm going to talk to him, see what he can help me with,' but I just kept sitting. Finally I told myself, 'Get your butt out of this chair and talk to him.'
"He would stay after school, and we'd talk about scripts and different plays. He was a huge influence on me taking the next step."
Dykes entered W&M on a football scholarship and finished his career having played in 37 games, with nine starts, 52 tackles, including a personal-high seven tackles against Virginia in 2017.
He has also left with a degree in a self-designed major known as world performing arts for social justice. Dykes has written poetry, at least one play, most of one screenplay, acted in a play, directed a play and served as dresser for Francis Tanglao-Aguas, professor of world theatre and Asian & Pacific Islander American Studies, in his 2016 role as Queen Clytemnestra in "Oresteia."
Dykes also engaged in independent study so daunting that it seemingly defies the truism that there are only 24 hours in a day.
Denzel Dykes summarizes his varied career at W&M
"I admired how Denzel fought tooth and nail for his quest to be an artist despite the rigorous schedule he carried as a star football player," Tanglao-Aguas said.
The summer between his freshman and sophomore years was a time of intense reflection, Dykes said. Originally in business, he thought about his childhood and what made him happiest, even dressing up as Michael Jackson and dancing around his home in Waldorf, Maryland.
"It's easy when you're in college to say, 'I don't know what I want to do,' but sometimes it can be right in front of you, and you don't even notice it," he said. "There are a lot of obstacles to being a student-athlete, but I'm a huge believer in independent study. I reached out. I read books. I read scripts on my own. I just worked at developing my gifts outside of football."
And, he is quick to point out, he received personal attention and guidance any time he sought it.
In 2016, one of those efforts included contacting Laurie J. Wolf, professor of theatre and director of theatre at W&M, about doing independent study in playwriting. Never having met him, she said, she didn't know what to expect. She decided to take a chance.
"And I am forever thankful I did," she said. "He did three subsequent independent studies, all based in writing. He worked on a lot of poetry last term. I also had the opportunity to direct him in a student-written play last spring, 'Who Loves Like That.' He is a fine actor, but I think his real talent and 'calling' is with his writing."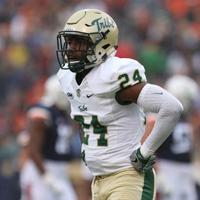 Wolf is working with Dykes on the screenplay of a film he hopes to call "Busting Out." She described the story of a young man's rocky relationship in trying to follow in the footsteps of his famous fashion-designer mother as "very ambitious."
"It's very sad at times, very encouraging at times," Dykes said. "It'll break your heart but it'll also make you smile. (Wolf) likes to say that my writing is very sophisticated, so we worked on whether I could keep that sophistication up through a longer piece."
Dykes will head back to the Washington area soon and begin answering casting calls and auditions. His larger goal is to be an independent filmmaker, one who directs and acts in material he has written.
Although he'll no longer be in Williamsburg, he left his mark when he walked across the football field at Zable Stadium for the last time.
"We have developed a strong friendship that I believe will continue once he has graduated," Wolf said. "That's something that is often promised, but rarely happens."
Tanglao-Aguas called Dykes "a role model for students to emulate" because he pursued his passion to have an arts education while fulfilling his responsibilities as a scholar-athlete.
"He represents the best that William & Mary has to offer," Tanglao-Aguas said, "not only because of what he gained from the university but what he brought to it in the first place that no professor can give him and that is perseverance, dedication, humility and an indefatigable work ethic."